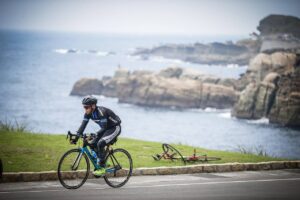 Cyclists traveling along the coastline in Ventura face real dangers from traffic, even when using the protection of a bike lane.
A careless driver can easily veer over a white line to strike a defenseless rider. The consequences can be even more devastating when a thoughtless driver decides to leave the scene of an accident without reporting it. A bicyclist may be down in the road in the path of unsuspecting drivers that are approaching. They may also have to wait longer for someone to call for the medical care they desperately need.
Cyclist Badly Hurt in Hit-And-Run Accident on PCH in Ventura County
A tragic accident left a cyclist injured and left authorities seeking a hit-and-run suspect Friday morning in western Ventura County. The Ventura Star reported the accident occurred along Highway 1 near Faria Beach Park on January 13, 2023.
The California Highway Patrol determined that a 22-year-old man was riding a Trek Bicycle northbound in a bike lane when he was struck from behind. The rider, a Santa Barbara resident, was rushed to Ventura County Medical Center with major injuries. An update on his condition was not released over the weekend.
The driver involved did not remain on the scene. Investigators found a section of a faded gray front bumper on the scene they believe came from the vehicle involved. They have no other information about the vehicle or the suspected driver at this point. They ask that anyone with information about the accident or the driver call the California Highway Patrol's Ventura Office.
Support for Victims and Family Members after a Hit-And-Run Ventura County Cycling Accident
A hit-and-run driver may also leave a victim or the victim's family to face enormous medical and financial consequences alone. Suspects often hope to escape having to pay for hospital bills and reimbursing a victim for the time they spend away from their bikes and away from their jobs.
Fortunately, hit-and-run accident victims and their close relatives can seek accident compensation even if a hit-and-run driver is never identified. Cyclists would file an injury claim with their own car accident insurance provider or with a family member's policy the cyclist is covered by. The claim would ask for support from the policy's uninsured motorist coverage.
If a hit-and-run suspect is arrested, a claim for damages can be filed immediately against the driver's auto insurance company. Families don't have to wait on the results of a criminal trial to ask for help, because the two cases will be separate.
Contact a Bicycle Accident Lawyer Serving Southern California
Regardless of which insurance company a victim must seek help through, a Southern California Bicycle Accident Attorney with Quirk Accident & Injury Attorneys, APC, helps you secure what's fair. Bicycle accident victims should get the best care available that gives them the best chance to get on their feet again and return to their bike rides. They need to have the assurance that those hospital bills and physical therapy costs will be completely covered.
Contact us for a free case analysis. We want to learn more about how a careless driver's mistake has impacted your life or your family's life. If you retain us to represent you for a bicycle accident claim or a bicycle wrongful death claim, our goal will be to obtain the maximum compensation available for what you've been through.
You also don't need any money if you want to hire us to represent your case. We don't get paid unless we win your case for your family.