Exceeding Your
Expectation

is Our Expectation

Personal Injury claims vary from case to case.  Our team recognizes that each client experiences different stresses, physical pain, emotional distress, and economic losses. 

Understanding each clients' unique position allows us to strategize and implement a plan of action. We explain the process and guide our clients through their physical, emotional, and legal recovery. In doing so, we fight for the highest compensation for their medical bills, lost wages, frustration, distress, and inconvenience.   

Unlike other firms, our team provides personalized service and relentless pursuit of closure to get big wins. Our value to you is rooted in teamwork, professionalism, and integrity.  Rest assured, we will go above and beyond to exceed your expectations. 
Quirk Accident & Injury Attorneys functions as a team. 

We listen.  We collaborate. We prepare.

We work tirelessly to take the stress off your shoulders and delivery fast wins for you.  
What
Quirk

Stands

For

Character –We possess credibility, integrity, and honesty.  These values are the foundation of our firm, and we project these to the public as the cornerstone of our business ethos. 

Common Sense – We are self-starters utilizing rational thought, emotional intelligence, and problem-solving skills to efficiently address and resolve matters and get results. 

Teamwork – Quirk 'works' because our team members take the initiative to deliver optimal results through streamlined communication and collaboration.

Competent Confidence – We combine an unconventional approach with proven principles to exceed expectations and get results.  We foster a professional and respectful environment to promote personal and collective growth. 

Culture – We thrive on being good humans and actively practicing tolerance, diversity, and inclusivity.  We seek team members who reflect the community in which we work and the clients we represent. We deeply respect what makes everyone unique.

We believe that exercising compassion cultivates a desire to always strive to be better people, regardless of socioeconomic, race, gender, ethnic, age, religion, sexual orientation, citizenship, military status, or physical/mental differences. 
Quirk Accident & Injury Attorneys
Quirk Accident & Injury Attorneys, APC is the go to firm for all personal injury cases. We fuse traditional concepts with progressive ideas and real world experience.
Quirk means a peculiar trait, and Quirk Accident & Injury Attorneys, APC is distinguishable from the rest.  From the beginning you will feel at ease and confident with your choice while they fight to get you compensated for your losses.
Feel free to learn more about us, and speak to us about your personal injury case.  See how the Quirky Personal Injury Lawyer will help you!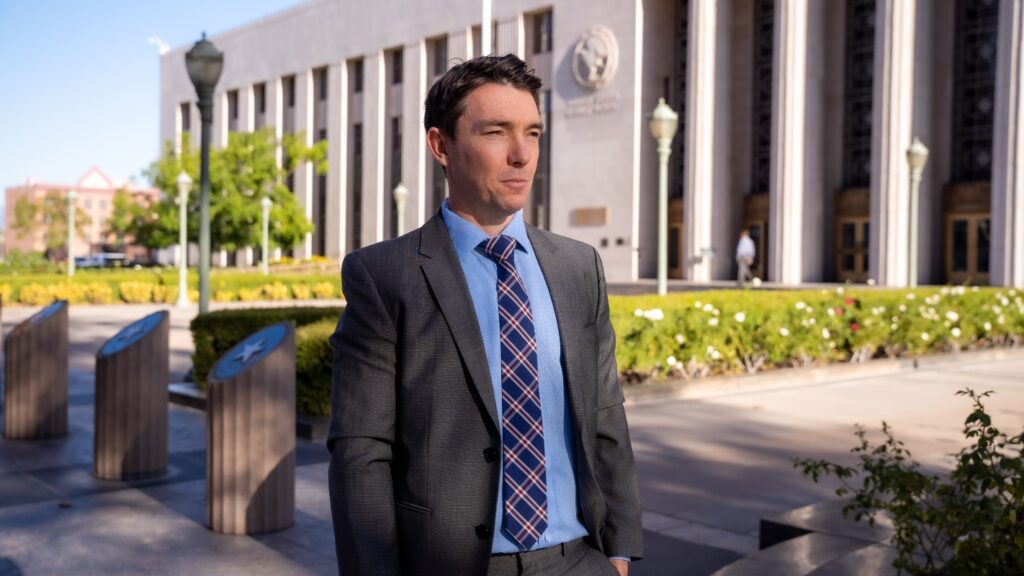 Logan Quirk
Born in Nevada, Logan Quirk grew up in Northern California, graduated from the University of California Santa Barbara and earned a BA in Global Studies in less than four years, earned high honors and successfully, completed the college honors program.
After Santa Barbara, Logan moved to Las Vegas and worked in a Plaintiff's construction defect firm representing the homeowners against big construction companies and their insurers for defective construction.
Logan attended law school at Santa Clara University School of Law. After graduation, Logan immediately began practicing personal injury law.
Logan then opened the San Diego office in 2012, and he expanded to Los Angeles in 2013.   Logan is licensed to practice in California and Nevada, and he maintains memberships with the Consumer Attorneys Association of Los Angeles, Consumer Attorneys of San Diego, Los Angeles County Bar and San Diego County Bar.
Logan has helped many injured people get awesome results and closure for their injury cases.   Logan's success comes from focusing on the case from start to finish.  Your file is handled by an attorney, and you can rest assured your interests are protected.
Outside of work, Logan will be riding his mountain bike, fly-fishing, watching sports, snowboarding, reading books or anything foreign affairs related, and trying albeit unsuccessfully to be funny.
Logan is here to speak with you about your injury matter or any questions you may have.