Thousand Oaks residents pull out onto local boulevards and highways each day to drive to work or to school, or to make a shopping run. Routes through our area also carry a lot of tourists and plenty of delivery vehicles and big rigs.
Everyone wants to get to their destinations safely, but not everyone commits to careful driving like they should. Devastating accidents occur along busy thoroughfares like Moorpark Road, Highway 101, and Highway 23 far too often, putting lives in danger.
One way to get motorists to pay more attention to the road is to offer a visual reminder of how dangerous Thousand Oaks traffic can be. Quirk Accident & Injury Attorneys, APC, conducted a study of recent traffic accident statistics in the hopes that these shocking figures would help get all drivers to pay more attention to the lanes in front of them.
Thousand Oaks Traffic Accident Numbers 2023
While Thousand Oaks traffic accidents involving injuries rates have fallen since pre-pandemic days, the fatality rate has been rising. That trend started in the 2020 pandemic year when accident numbers decreased, and yet tragic deaths made an astonishing leap.
According to California's Transportation Injury Mapping System (TIMS), 2022 was another elevated year for heartbreaking traffic fatalities. It remains to be seen if 2023 statistics will show an improvement.
In 2022, there were 465 crashes involving injuries on Thousand Oaks roads. At least 7 deaths resulted from those collisions.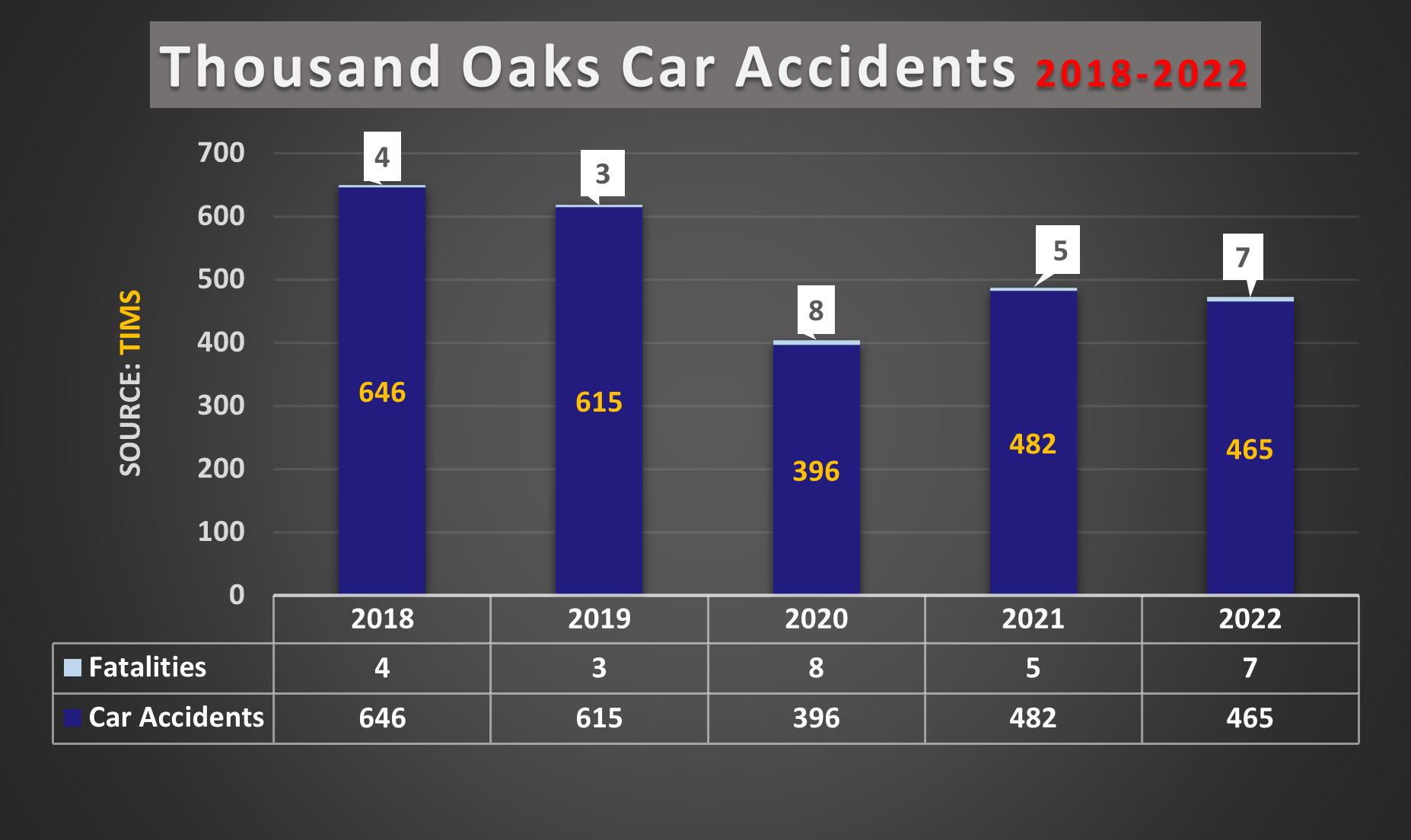 Thousand Oaks is the second biggest city in terms of population in Ventura County. Oxnard has more residents and Simi Valley usually reports a population slightly under Thousand Oaks. The traffic accident figures over the past five years in the county have held fairly steady, but remain alarmingly high.
In 2022, TIMS documented 3,496 serious accidents across Ventura County. That was similar in scale to the 2021 figures reported by local law enforcement.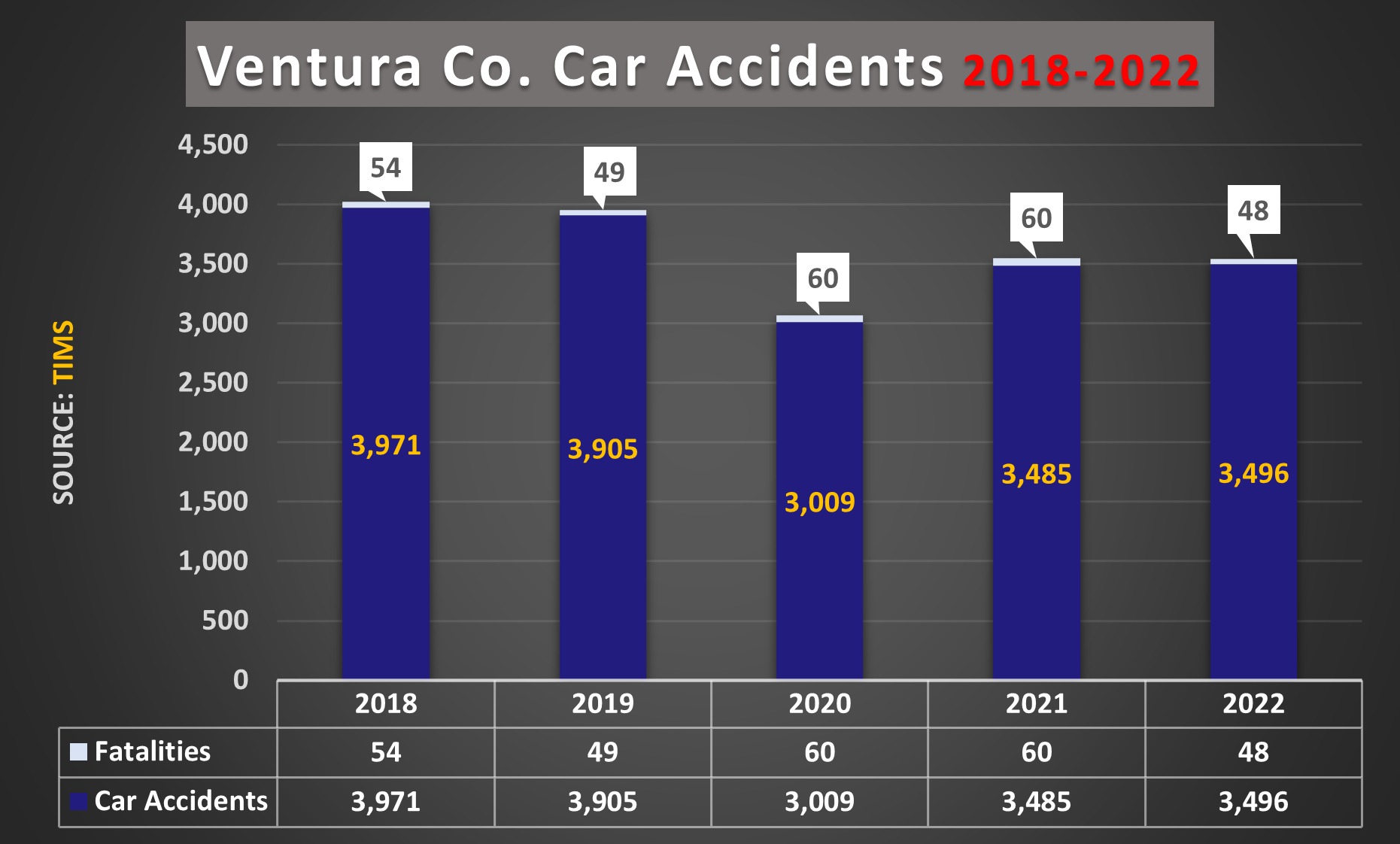 And those County numbers can then be held up to statewide numbers. California's Statewide Integrated Traffic Records System (SWITRS) shows that our state has seen some drop off in traffic accident numbers when compared to data from years before the 2020 pandemic. But California will always rank highly among all the states for total annual traffic accidents and traffic fatalities.
In 2022, California recorded at least 159,623 accidents involving an injury or death.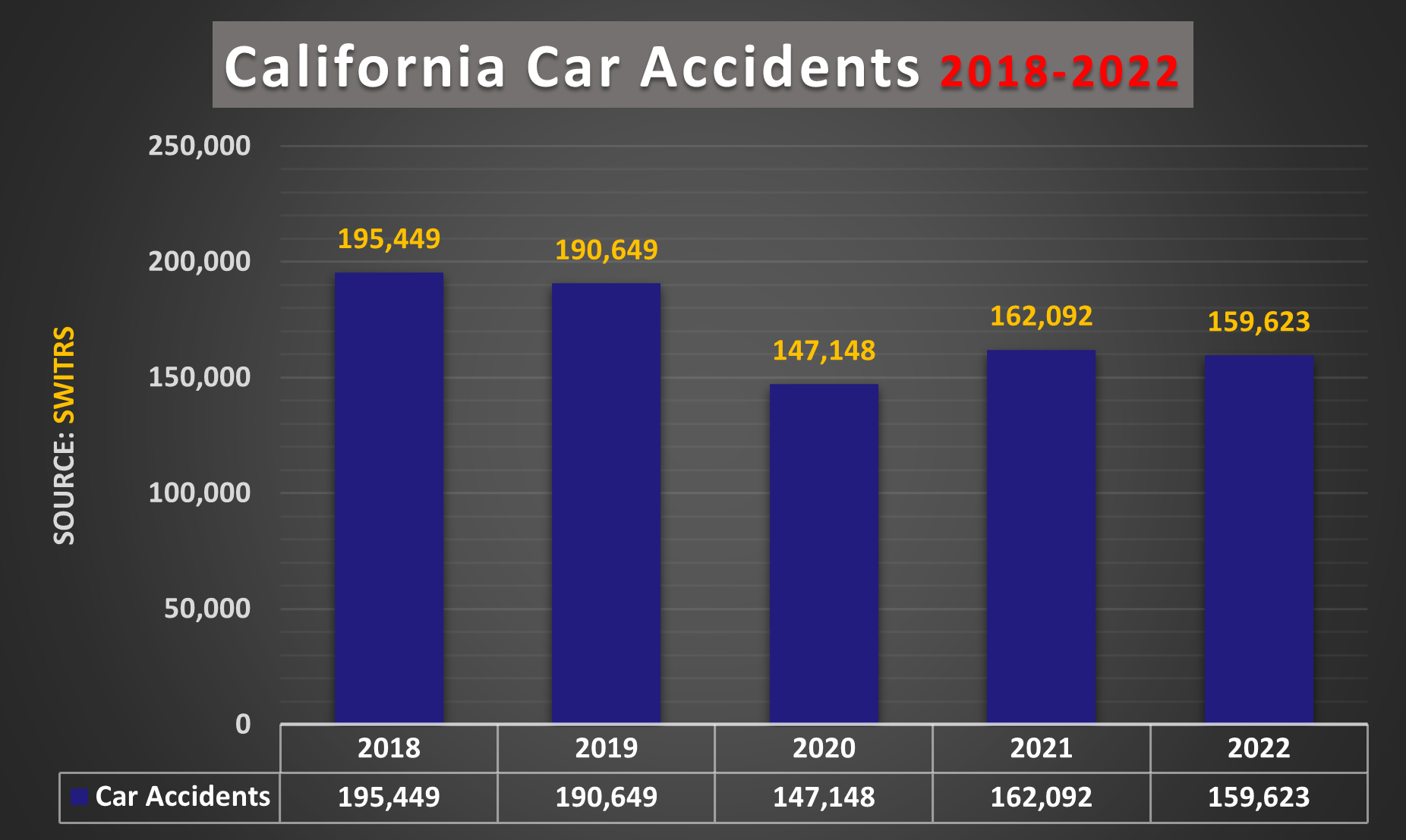 Drunk Driving Accidents in Thousand Oaks
Drinking and driving are a dangerous mix and alcohol-related collisions continue to be a hazard for Thousand Oaks motorists. It's one of the most easily preventable collision threats, and yet DUI drivers hurt thousands of motorists and devastate their families each year in California.
California transportation experts noted a troubling rise in accidents caused by drunk drivers recently. Since the pandemic year of 2020, alcohol-related accident numbers have been climbing to dangerously high levels. In 2022, there were 58 serious accidents involving a drunk driver in Thousand Oaks. Four people tragically lost their lives in those accidents. In 2021, authorities recorded 47 alcohol-related collisions and one fatality.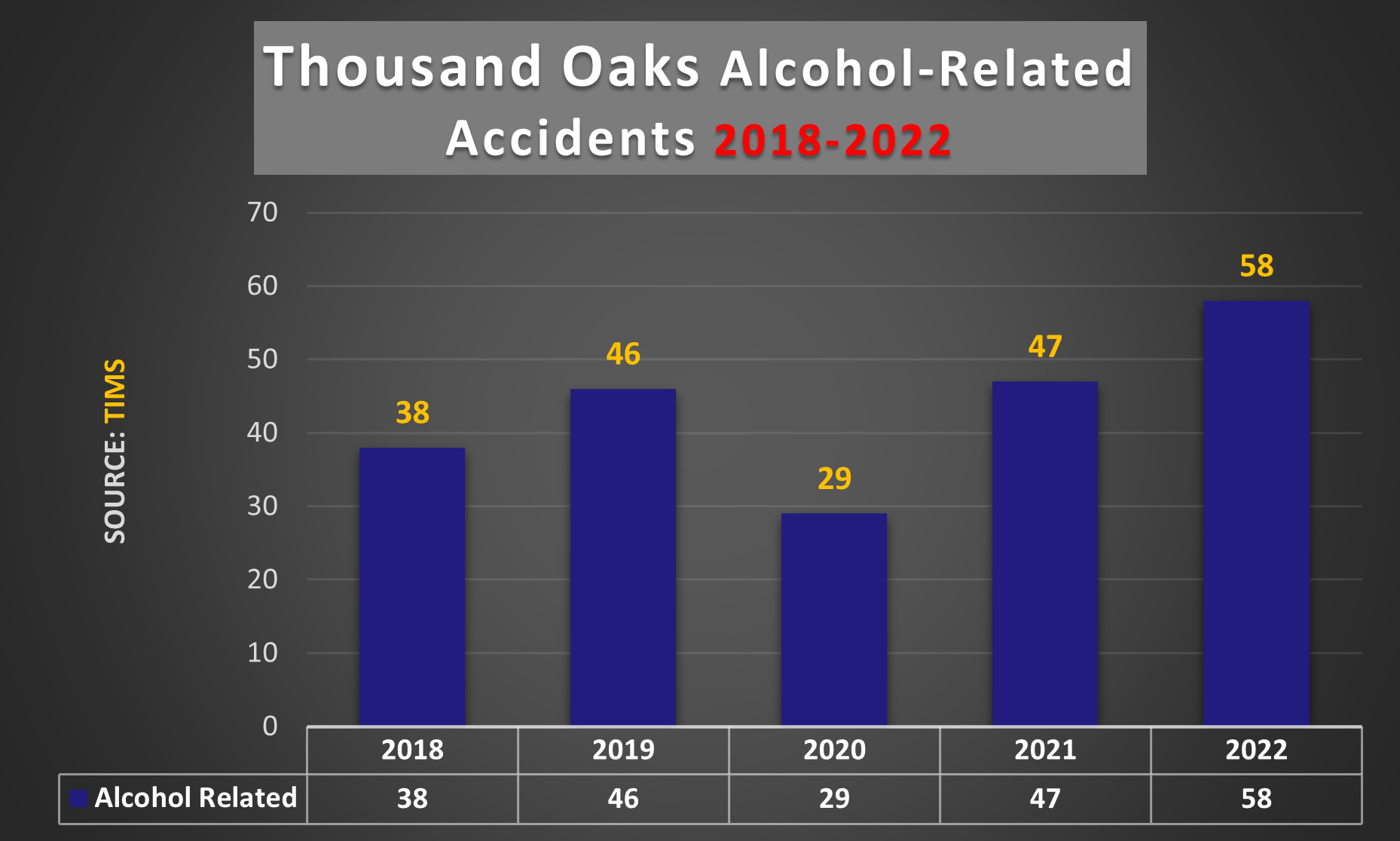 Thousand Oaks Hit-And-Run Accident Statistics
Another case of drivers refusing to act responsibly, hit-and-run accidents continue to plague Ventura County motorists. Drivers who strike cars, pedestrians, cyclists, or motorcycles and then flee the scene leave victims at extreme risk.
Injured parties can be left in the path of other unsuspecting drivers. They might have to wait longer on medical care if no one immediately reports the crash. Then there's the financial crisis that follows if a driver escapes justice and a victim's family is left to pay enormous hospital bills alone.
TIMS researchers tracked 13 serious hit-and-run accidents involving felony charges in Thousand Oaks in 2022. Tragically, at least one person's life was claimed in those accidents. Across Ventura County, there were over 300 injury accidents involving a felony hit-and-run driver in 2022.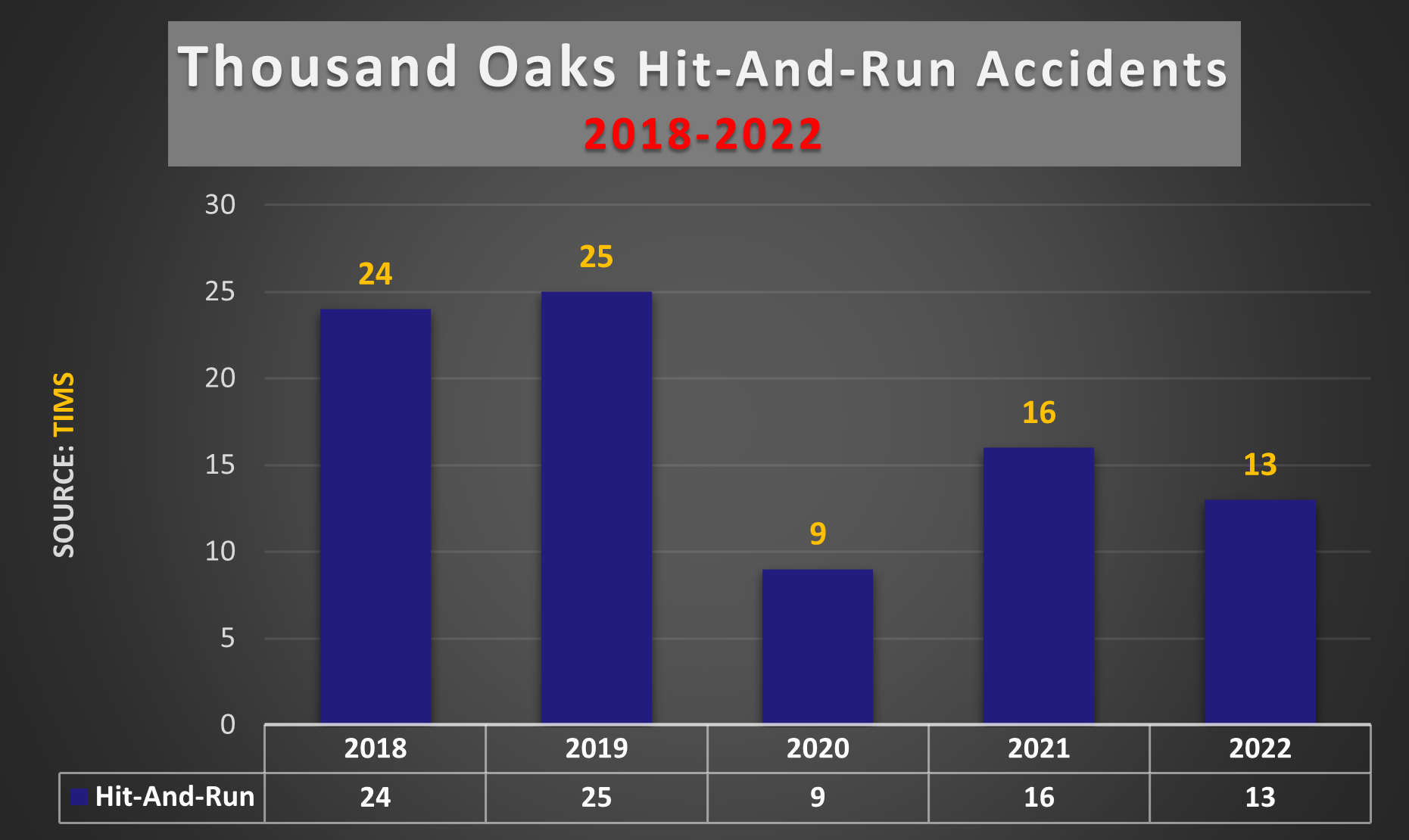 Contact a Thousand Oaks Car Accident Lawyer Today
These unfortunate accident rates show just how much danger careless and reckless drivers can put you in every week. If you or a loved one suffer a serious injury due to a negligent driver's mistake, please call a Thousand Oaks Car Accident Lawyer to discuss your case in a free consultation.
Contact Quirk Accident & Injury Attorneys, APC, to set up your free case review and find out what your case may be worth. There's no obligation, but if you retain us to represent you in your car accident case, we don't get paid unless we win your case. Then our attorney fee comes out of the settlement award you and your family receive.