Ventura County has some surprisingly hilly terrain whether you're following the coastline or driving through the mountains. Being in a car or SUV makes for a challenging enough drive, but drivers in big rigs often struggle even more with the varied terrain in and around places like Thousand Oaks.
Passing an accident scene involving a big rig on Ventura roads isn't an unfamiliar sight for local drivers. In fact, it's important to highlight these common incidents, so that normal motorists and big rig operators know the risks of their careless and reckless driving.
Quirk Accident & Injury Attorneys, APC, examined the number of accidents in Ventura County involving large trucks over the past few years. We wanted to see how safe our roads are by comparing accident rates in 2019, 2020, and 2021. It's an effective way to remind local motorists and truck drivers of their duty to keep themselves and other motorists safe.
Ventura County Truck Accident Dangers
Ventura County features some difficult drives along Highway 101, Highway 1, and State Route 33. Steep inclines and tight curves can catch truck drivers and normal motorists by surprise. There are also hazards when simply traveling on busy city streets in places like Oxford or Simi Valley at rush hour.
These obstacles can be tough for motorists in smaller vehicles, but they are definitely difficult to navigate for big rig drivers who steer larger vehicles and carry much heavier payloads.
A truck driver can travel too fast or veer out of a narrow lane to lose control. These small mistakes are often enough to create devastating multi-vehicle accidents. The injury consequences of impacts with such large vehicles are also more concerning, especially when vehicles end up under tractor-trailers and semi-cabs or are pushed off the road entirely.
Ventura County Big Rig Collision Statistics for 2021
According to California's Transportation Injury Mapping System (TIMS), Ventura County documented 3,432 total traffic accidents in 2021. Those crashes tragically claimed 36 lives. (As of this writing, the 2021 accident numbers are only preliminary). Only a small percentage of recorded collisions involved big trucks, but those that did often left behind more injuries and did more serious harm to victims.
Below are the statistics behind 2021's truck crashes in our county, beginning with the number of truck accidents involving injuries or deaths across Ventura County.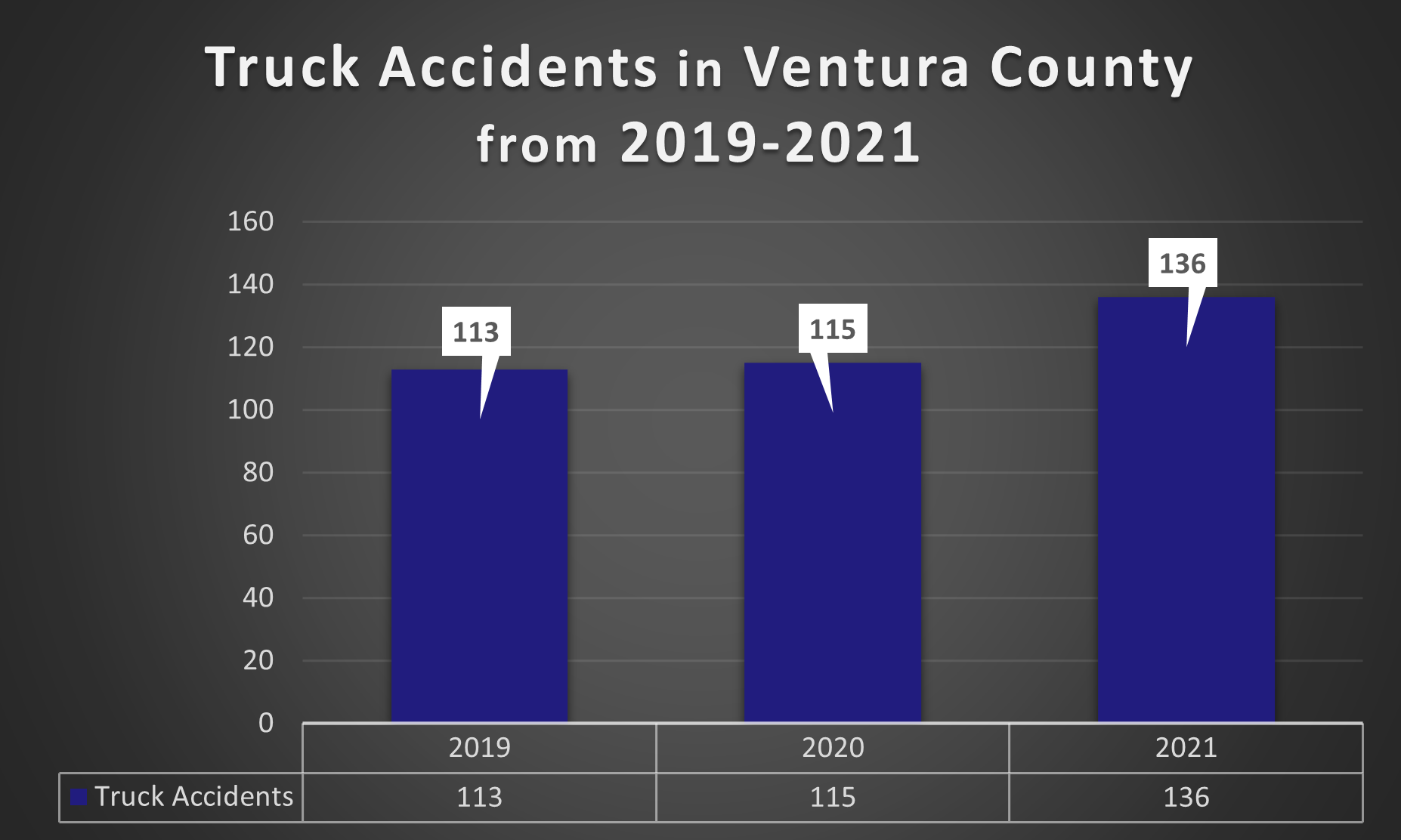 From the preliminary numbers, it appears collisions involving big rigs and other large vehicles have steadily risen over the past few years.
This is the data representing truck crashes, but there's also the human toll they take on victims and their families and friends.
Truck accidents leave behind patients who have to spend days or weeks in hospitals. Tragically, a few victims never got to return home and were counted towards the sad cost of traveling on Ventura County highways and streets alongside large, heavy vehicles.
There were 33 more Ventura County big rig accidents in 2021 than in 2020. It's also a notable increase when compared to 2019 numbers.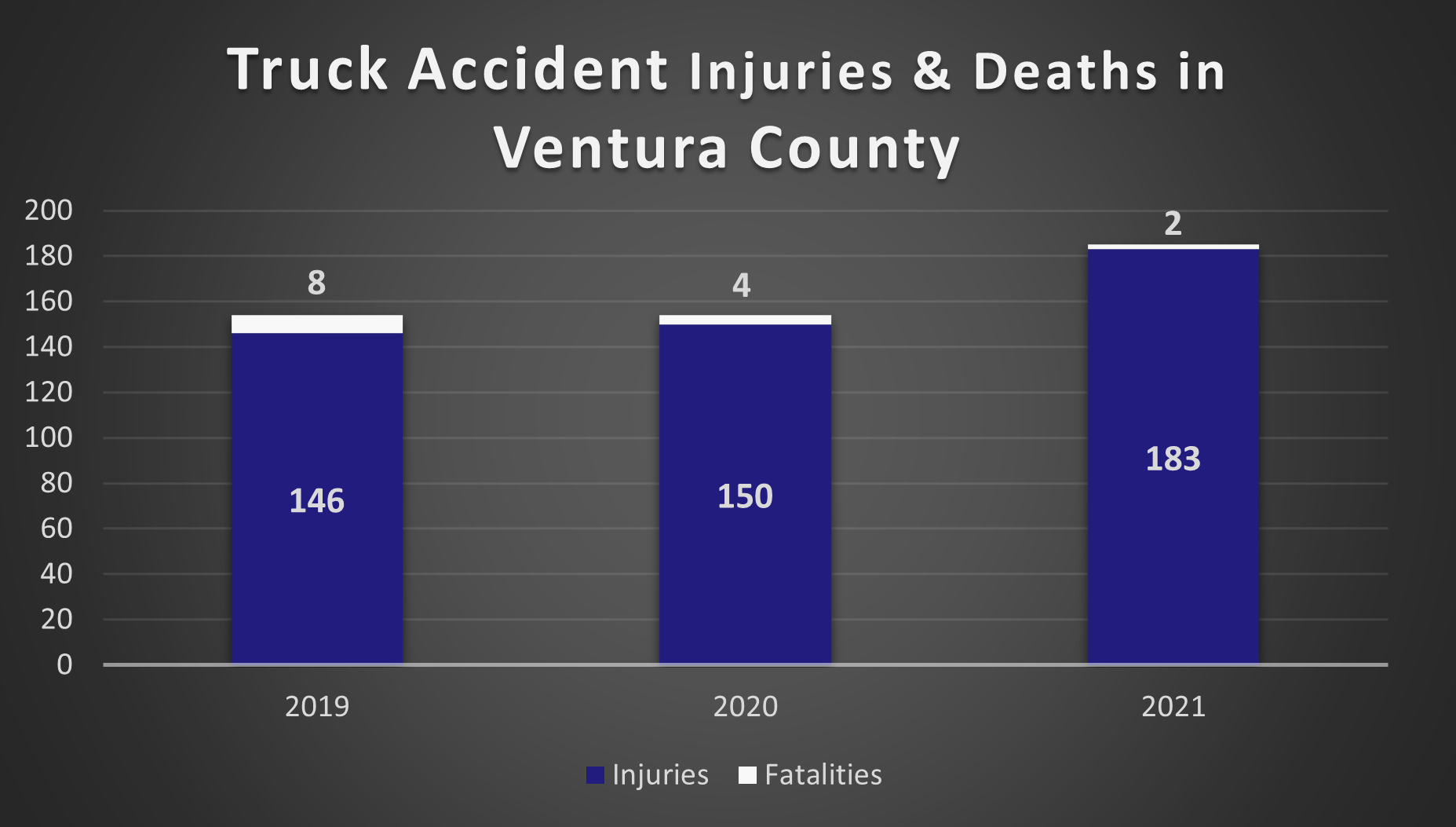 Thousand Oaks and Oxnard Truck Accidents in 2021
Oxnard registers as the largest city by far in Ventura County. The population is nearly double the next biggest cities of Thousand Oaks and Simi Valley.
Across 2021, Oxnard documented just over a thousand traffic collisions in the city. Those accidents left around 1,500 people injured and claimed at least one life.
For the year, Oxnard also saw an alarming jump in truck-involved accidents. That's according to TIMS preliminary numbers for 2021. When compared with 2020 accident statistics, the truck collision numbers almost doubled in 2021. TIMS did not record any truck accident fatalities in 2021 or 2020, but the city saw at least one death associated with a truck-involved collision in 2019.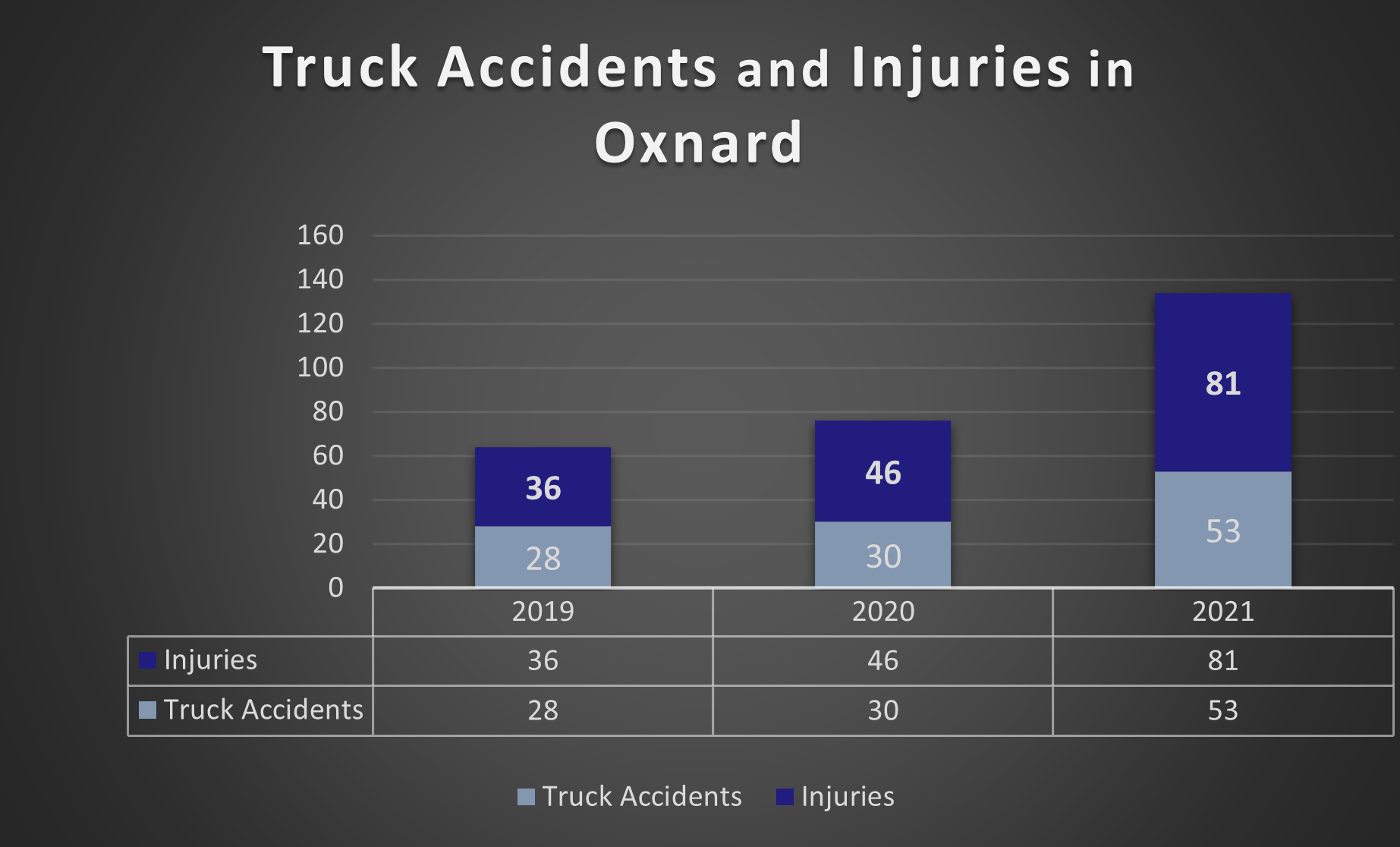 Thousand Oaks shows a steady number of truck accidents and injuries over the past few years. Drivers here must contend with big rigs on curvy and sometimes steeper roads on nearly every side of the city.
Conejo Grade on Highway 101 is notorious for bad accidents. Unfocused truck drivers may not be expecting the 7% grade of this busy route. They can be traveling too fast to brake in time for stopped traffic.
Big rig drivers can also hit a curve while traveling well above safe speeds and lose control. Things get especially dangerous when commuters to and from Los Angeles clog the highway and mix in with truck traffic during the morning and afternoon rushes.
Overall, TIMS documented 481 total traffic accidents in Thousand Oaks in 2021. In those accidents over 600 victims suffered injuries and at least four people tragically lost their lives. Thousand Oaks truck crash numbers stayed fairly even over the past few years. Yet, the number of injuries associated with those collisions demonstrates how the typical truck accident rarely leaves those involved unharmed.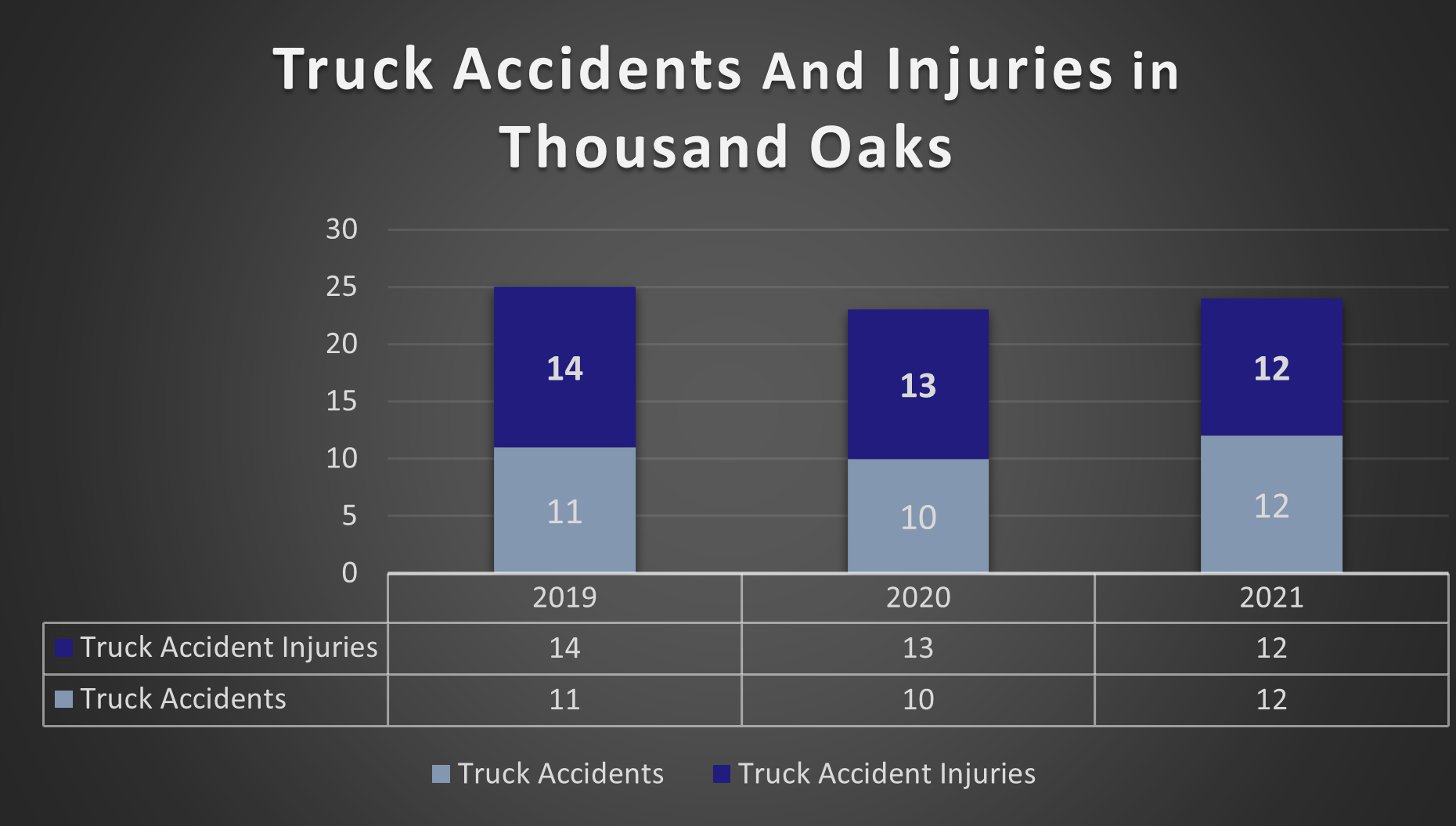 Contact a Ventura County Truck Accident Lawyer Today
The hope is that these discouraging numbers will bring about change in the behavior of big rig drivers and all other motorists who use the road.
Unfortunately, Ventura County is a popular place to live and visit. Traffic will stay congested and dangerous collisions caused by careless truck drivers will occur.
After being injured in an accident caused by the negligence of a big rig driver anywhere in Ventura County, contact the truck accident lawyers at Quirk Accident & Injury Attorneys, APC.
You'll receive a confidential and free case consultation. We want to learn more about your accident and how it has impacted your life. We also will provide you with an opportunity to address your initial questions. After that, we'll advise you on all of your legal options. If you retain us to represent you in your truck accident case, our goal will be to obtain the maximum available compensation that you're entitled to.